Antonini guest speaker at the 12th Congress of the Lebanese Urology Society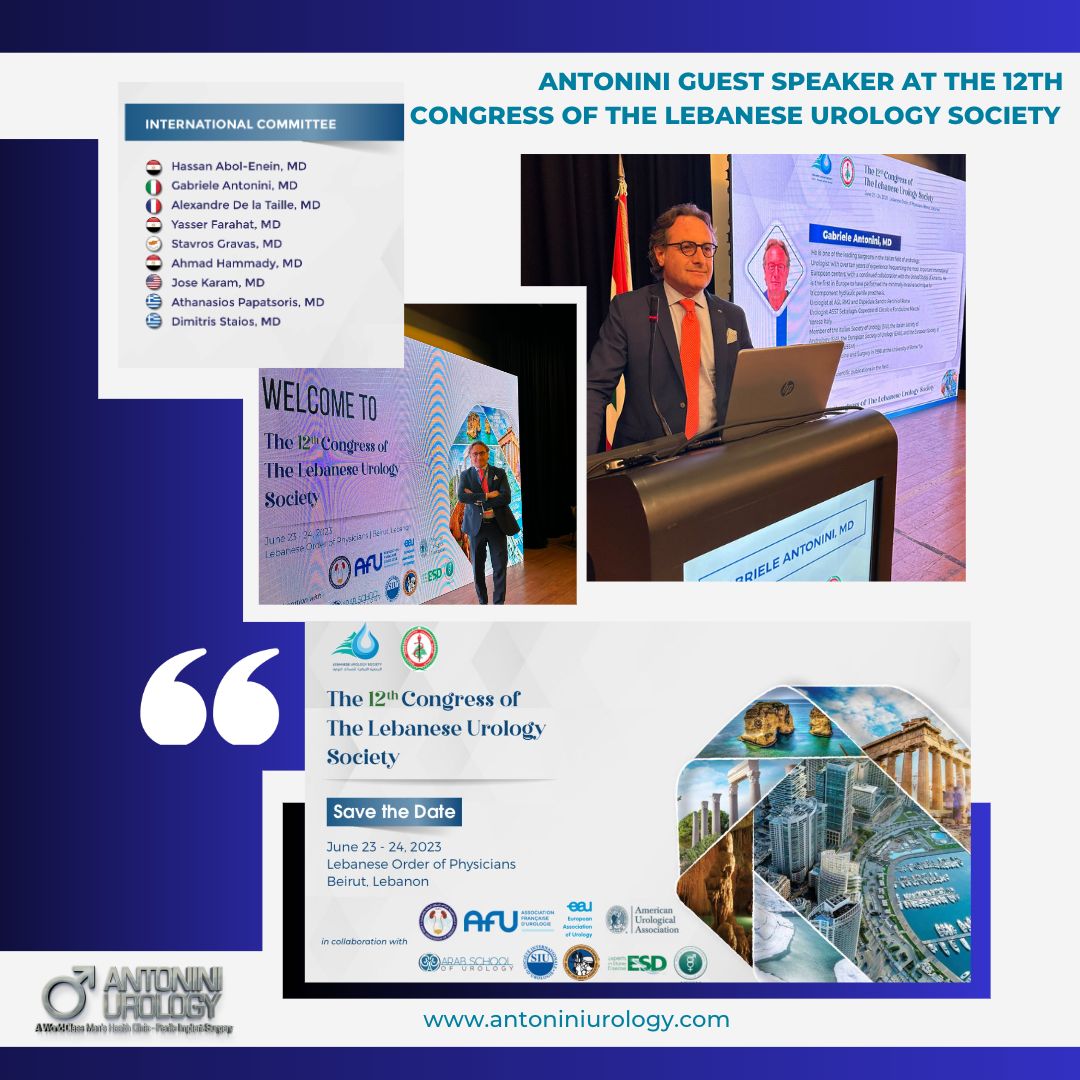 Beirut, June 2023 – Dr. Antonini, a renowned urologist specializing in penile prosthesis implantation with an infrapubic approach, was invited as a guest of honor to the 12th Congress of the Lebanese Society of Urology, recently held in the vibrant city of Beirut. The event provided professionals in the field with an opportunity to learn about the latest innovations and best practices in urological surgery.
Dr. Antonini, with years of experience and expertise in the field of urology, was chosen to share his extensive know-how in penile prosthesis implantation through the infrapubic approach. This innovative procedure has shown promising results in helping patients with erectile dysfunction restore a satisfying sexual life and improve their overall quality of life.
During his presentation, Dr. Antonini examined in detail the benefits of the infrapubic approach compared to other traditional techniques. He emphasized how this methodology can offer several significant advantages, including greater precision in prosthesis implantation, reduced risk of post-operative complications, and faster recovery for patients.
Furthermore, Dr. Antonini provided Lebanese urologists with a comprehensive overview of the criteria for selecting eligible patients for penile prosthesis implantation, as well as the preoperative process, the surgical intervention itself, and post-operative management. His presentation offered participants a complete and in-depth understanding of the methodology and best practices to ensure the success of this procedure.
During the congress, Dr. Antonini also participated in interactive question and answer sessions, where he addressed the curiosities and doubts of his Lebanese colleagues. The direct interaction with the esteemed surgeon provided an opportunity to further enhance the understanding of techniques and challenges related to penile prosthesis implantation.
Dr. Antonini's participation in the 12th Congress of the Lebanese Society of Urology underscored the importance of international knowledge sharing and professional development in the field of urology. His contribution has undoubtedly left a lasting impact on the Lebanese medical community, offering new perspectives and promoting the treatment of chronic erectile dysfunction through the implantation of state-of-the-art hydraulic penile prostheses.